>Looking for Thursday's Friends and Giveaways?…it's the next post down…but before you "hop" on down you will want to read this post…come and tell us about your BFF and you can win some awesome loot! Okay…now you can venture on down to the Friends Cafe! BTW, you look so cute today!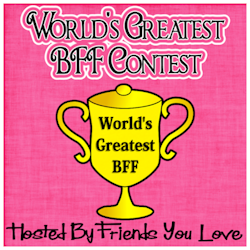 Let's have some fun in honor of International Women's Friendship Month and our
Friends You Love
Celebration. We want to hear why YOU think you have
The World's Greatest BFF
. Everyone has someone who has touched thier lives as a BFF…and WE want to hear about it. You can win some awesome prizes just for sharing.
Here is who I think is The World's Greatest BFF! It's my sister, Michelle. We are 2 years, 9 months apart (yep, she is the younger one and I already know I am the cuter one…lol). We fought, yelled, cried, shared, hit, tattled and confided in each other. She has been my rock for as long as I can remember. She is the strong one, the positive one, the one whom I can trust. She will never leave me, she will always love me, she is ALWAYS there for me!
To enter:
~Write a post about your BFF.
How do you know her? How has she been there for you? Tell us about the things you've been through together, through thick and thin. Why is YOUR BFF The World's Greatest BFF?
~Come back here and link your post up
Entries accepted 9/2 – 9/19
On 9/23, we will post our Top 5 favorite BFF posts.
~Beginning 9/24, the public can come back and vote for their favorite!
~Voting will close at 5 p.m. CST on 9/29
~The winner will be annouced at Twitter Gala on 9/30 and receive a prize package
valued over $150 from 5 different sponsors for herself AND her BFF!
So join the challenge! Write about your BFF, come back, link up, and win!!!